/ Events
This was the Graduation Ceremony on June 2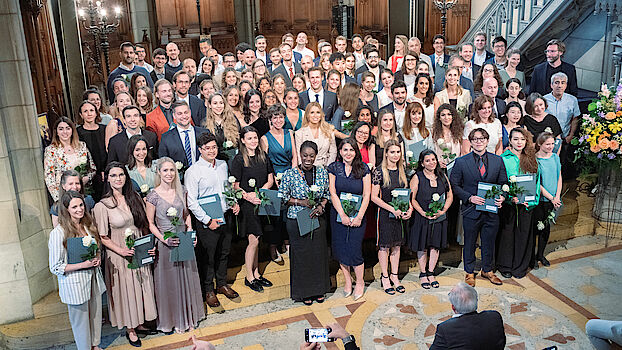 On Friday, June 2, 104 new medical and dental doctors took their vows in the Open Elisabethenkirche. Prof. em. Marcel Tanner held the ceremonial address, after which the certificates were presented by Prof. Dean Primo Schär.
Hosting doctoral graduation ceremonies is one of the important - and particularly enjoyable - duties of the Faculty of Medicine. It allows us to accompany these young people at this important step in their careers and also to get an overview of the enormous work that has been done in the past years.
However, the joy and recognition for the doctoral graduates were most clearly visible and audible in the applause of the relatives, friends and acquaintances after the awarding of the certificates. And also in the solemn, relaxed atmosphere at the subsequent aperitif.
Photos of the event and further information can be found here.