First Implant Manufactured at the University Hospital Inserted!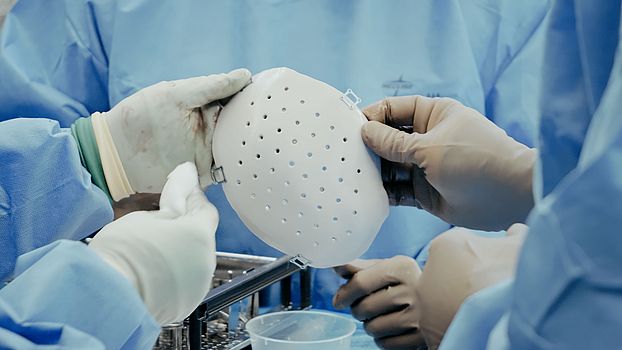 After several years of research and development work, a team of experts from the Department of Oral and Maxillofacial Surgery (MKG) at the University Hospital Basel, in collaboration with the Department of Neurosurgery at the University Hospital and researchers from the Faculty of Medicine, was able to implant an artificial skullcap in a patient that was produced directly in the hospital using a 3D printer.
Numerous different groups were and are involved in the now successfully implemented process: Researchers at the Department of Biomedical Engineering and the Institute of Medical Technology and Medical Informatics at the School of Life Sciences FHNW, regulatory experts from POC APP AG in Basel and, last but not least, neurosurgeon Prof. Raphael Guzman and oral and maxillofacial surgeon Florian Thieringer together with his 3D Print Lab at the University Hospital.
The "pilot patient" is doing well two weeks after the procedure, and ultimately this is the only real measure of innovation in medicine. Thieringer says, "Today we have reached a milestone in the direction of personalized and efficient medicine - and Basel is establishing itself as a pioneer and innovation platform in the field of 3D printed medicine." The basis of this success is that many different players have pulled together in the same direction: toward better patient care.
More: